Passion, dedication, and love for the craft.
Bhakti Sa began his journey through metalwork in 2013 when he took a basic knife making class with David Lisch. This experience immediately ignited a deep appreciation for the focus, diligence, and skill required to form raw materials into a well executed cutting tool that could withstand generations of use. After taking a few more classes with Lisch at the Studio 4 Forging School, Bhakti was offered an apprenticeship to Dave Lisch in damascus fabrication and kitchen cutlery construction. It was during this 2 year apprenticeship that Bhakti gained an education in forging Damascus steel billets, and in using the fruits of this labor to produce high end custom kitchen knives.
Arachne Forge is Bhakti's venture into full-time blacksmithing, started in his garage in 2018. With a heavy focus on bladed tools, Arachne Forge will provide the baseline as Bhakti continues to grow as both a blacksmith and as a knifemaker. Kitchen cutlery comprises the bulk of production at Arachne Forge, for now.
In addition, Bhakti can be found working in various shops around Seattle, broadening his understanding of blacksmithing and metalworking techniques to further strengthen his knifemaking abilities. Bhakti's training and passion for blacksmithing extend beyond the subjects of knife and steel making. He is truly dedicated to this art, and has endeavored to explore the manipulation of metal, and its heritage in culture. Bhakti continues to build his understanding of metalwork through local workshops and classes, and as a member of the board of directors with the Northwest Blacksmith Association.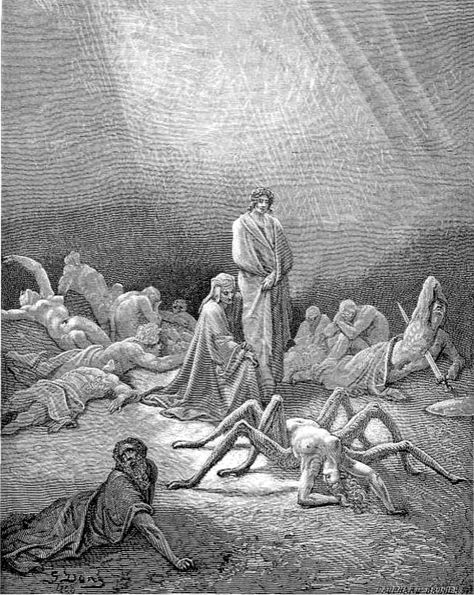 The story of Arachne comes from the work of the Roman poet Ovid. The textbook message it contains is a warning against hubris and pride. Wise words for any who create. But a further glimpse into the context of the story (Ovid was exiled from Rome, allegedly for this poetry) reveals the heavy undertones of feminism, censorship, fascism, and self-actualization that brought me to use it as the inspiration for my work.
The image here shows an interpretation by Gustave Dore of Arachne's transformation as envisioned in Dante's Purgatorio. Iseult Gillespie and Mette Ilene Holmriis made a wonderful video for TED-Ed animating Arachne's story. Rather than drone on with my own synopsis, I've included their animation for visitors unfamiliar with the myth.